Excuse me while I post the overused Mean Girls picture.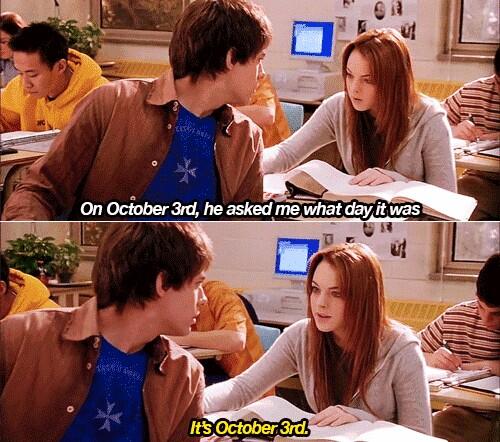 Once again, this morning my body woke me up before 8! I don't mind this, I really like fitting more into my day.
Everyone went to sleep later than me for the most part, so I didn't expect to see them getting up anytime soon. I hopped on my computer and read some blog (big surprise). I was going to run this morning, but decided instead to take yet another break, and make sure we do lots of walking later!
I was starving, so I grabbed a handful of Kashi cereal, and then went in the bathroom to wash my hair because I couldn't stand it anymore. This loud chain of events caused everyone to wake up. Exactly while I waited until later to do it all.
We all got ready and left for the French Market. So many delicious smells and pastries. We stopped at FliP Crepes and I got a Mushi Mushi crepe. It had eggs, mushrooms, onions, and a sauce of some sort. I tried getting egg whites, but they didn't have them, but it was still a better choice than some things. We stopped and grabbed coffees at a different stand. I first got a double shot of espresso with brown sugar and cinnamon in it. It was SO good, but I was left wanting a coffee to sip on, so on the way out I grabbed a pumpkin pie latte. It was the best pumpkin flavored coffee I've ever had, and tasted like I was drinking pumpkin puree and spices!

We got back to the apartment and watched some TV and videos. At around one someone OTHER THAN ME said "So are we getting afternoon drunk, or what?". I of course didn't decline, and we grabbed some beers. Our other friend came to the city to hang out today as well.
We headed off for a walk to avoid being to lazy or bored. It felt good to be active, although my Fitbit died yesterday so it's all going untracked. We walked all over the loop and then headed back for some food. We went to Jefferson Tap & Grill. I ordered a beer and a chipotle chicken sandwich with waffle fries. Yum!

We got back and decided to go grab our car on the north side and park it in the lot for the rest of the night/possibly overnight. We stopped at 7 Eleven on the way back in for some strawberry cheesecake ice cream and oreos!

Next came a Property Brothers drinking game! Yep, probably sleeping over again. Work at 10:30 tomorrow. I'll just leave you with that…